Offers are links combined with a picture and a short description. They are generally used to promote money-off vouchers or promotional offers. The available offers are set up by your community manager. You can send them to a visitor during a conversation.
From the discussion panel, this icon

 will open the action panel where you can find the tool to send offers.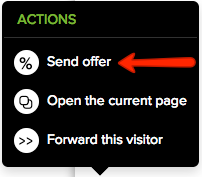 Clicking this link opens the offer sending window. This is composed of 2 elements:

Search tool (1) which allows you to find an offer quickly by searching for its name, or sorting them by criterion or category.
Search result (2) which displays the offer(s) you searched for. Send the offer to the visitor by clicking the icon . Click "Automatically transfer the visitor to this offer" if you wish to force the visitor's navigation (however, we advise leaving the choice of clicking the offer or not to the visitor).