The live feed allows the community experts to communicate with each other. Any expert can post a message (like a tweet), and the community manager can also interact with you.
To open the live feed, click the icon 

 from your discussion panel. A panel will open on the right, it allows you to see the last messages posted.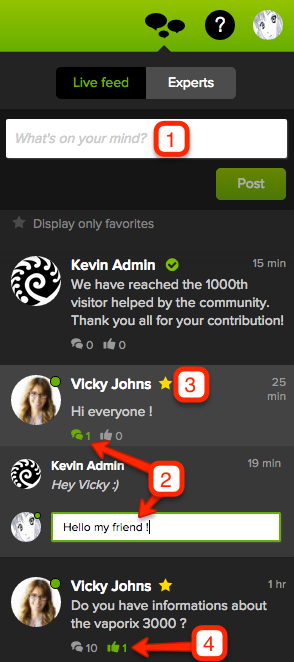 (1) Post a new message
Here you can add a new message to the live feed.
(2) Post a comment on an existing message
Click this icon 

 to see all the comments posted for a specific message (10 comments for the current example). An input field allows you to post a comment too.
(3) Save another expert in your favorites
When your mouse cursor is over another expert's message, a grey star will be displayed.

Clicking this star will add this user to your favorites. After that all the messages posted by this user will be marked by a yellow star to make them more noticeable. You can also display only the messages posted by users among your favorites by clicking "Display only favorites".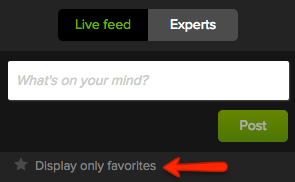 (4) Like a message or a comment
Click this icon 

 to like a message or a comment, it will turn into green. The number is showing the number of likes for this message.
When a new message is posted, a notification is displayed in your livefeed to inform you that a new message has been published.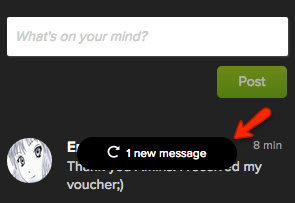 Click the notification to see this message.
Note : New features will come shortly to enhance your user experience. Thank you for your patience!