The chat window is the central element of the discussion panel. It contains messages exchanged and the tools available during the discussion (sending an offer, opening the current page or transferring the conversation).
1/ Overview of the chat window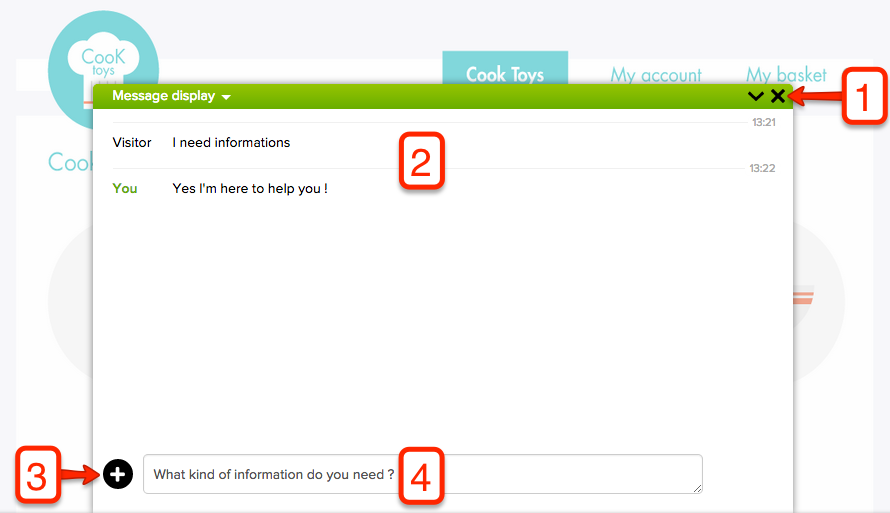 (1) The icons 

 allow you to minimize the chat window or close the conversation. It can be useful to minimize the window when you want to fully see the visitor's navigation since part of the navigation can be hidden in the background, because of the chat window.
(2) At the center of the chat window you will find the messages exchanged between you and the visitor.
You can see a preview of the visitor's message before it is sent. In that situation the message is greyed out until the visitor sends it.

The message preview will help you to be more responsive by preparing your reply before the message is received. 
(3) The icon 

 will open the tools panel. These tools are described in the section 2/.
(4) Type your answer here and press enter to send it. Unlike you, the visitor cannot visualize your message before it is published.
2/ The tools available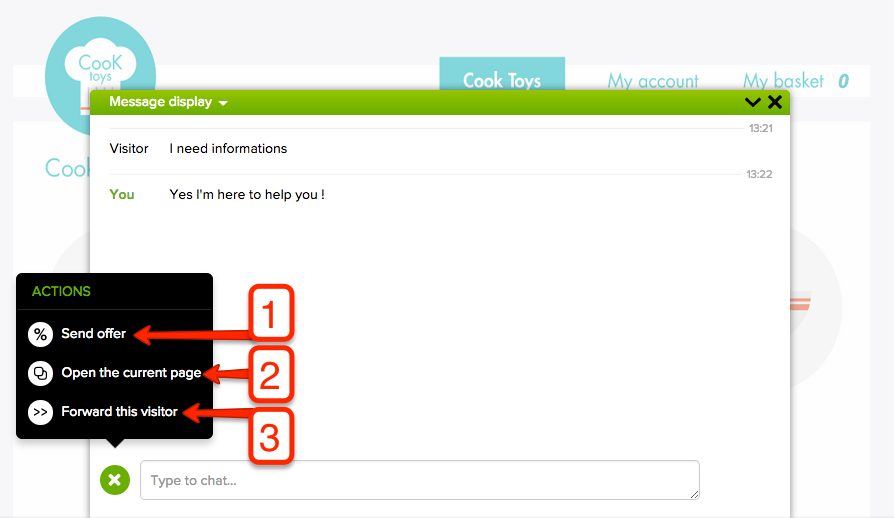 (1) Send a pre-recorded offer to the visitor. Offers are links combined with a picture and a short description. They are displayed in the visitor's chat window.
(2) This option allows you to open the page the visitor is currently looking at in a new tab in your browser. This can be useful if you can't see certain areas of the page from the discussion panel.

Attention: opening the current page does not save the visitor's session information. A product put into the basket will therefore not appear. In the same way, you cannot open the current page if a visitor is in his logged in area (you can open the page, but you will not be logged in).

(3) You don't have the answers to your visitor's questions? Transfer them to a professional agent with the option "Forward this visitor".
Note : This option is not available if your community does not have professional agents.